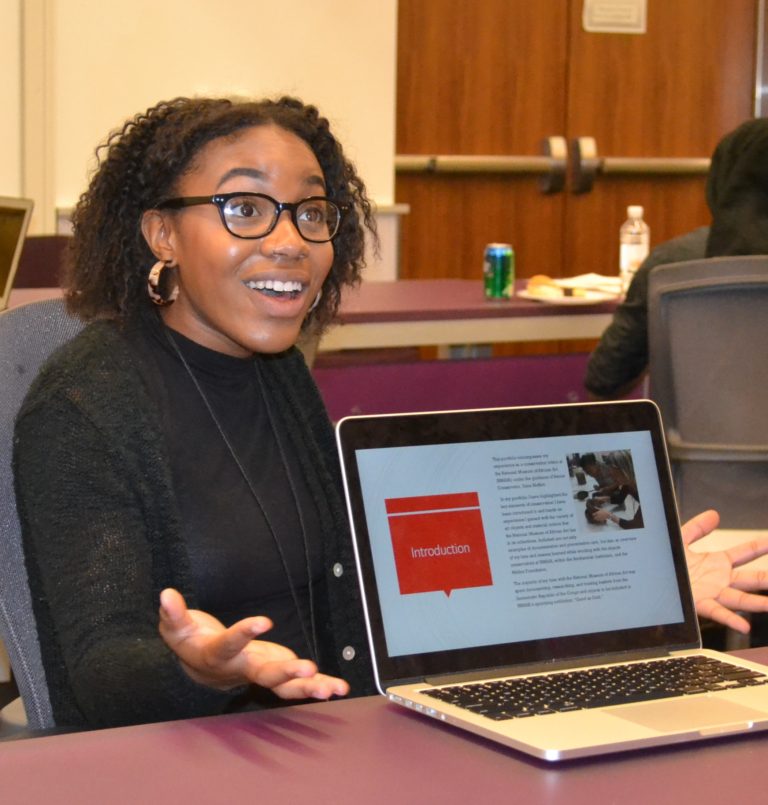 Focused on students from communities currently underrepresented in the museum conservation field, the Conservation Internship for Broadening Access (CIBA) offers opportunities for current or recent undergraduates to learn about museum conservation. During a 10-week summer program, CIBA interns are placed with mentors in a variety of conservation labs throughout the Smithsonian. The program supports interns by offering a stipend and paid housing during the internship.  A relocation travel allowance may also be included as part of the internship award.
Support for this program is provided by a grant from The Andrew W. Mellon Foundation and is administered by the Smithsonian's Office of Internship Programs (OIP). The program reflects the commitment of the Andrew W. Mellon Foundation and the Smithsonian to diversify museum professionals of tomorrow by providing opportunities to a diversity of prospective museum professionals today.
The CIBA program is an onsite program and internships cannot be done virtually.  We plan to open the program applications in January 2023 with the hope that onsite internships will be possible by June 2023. If, however, onsite internships are not possible due to the pandemic and the Smithsonian's operating status, we will need to cancel the 2023 CIBA program.
Background and Purpose
CIBA aims to help diversify the field of museum conservation by introducing the field to students who come from varied economic, cultural, social, and educational backgrounds.  Students and recent graduates from Minority Serving Institutions (MSIs) of higher education such as Historically Black Colleges and Universities (HBCUs), Hispanic Serving Institutions (HSIs), Tribal Colleges and Universities (TCUs), and Asian American and Native American Pacific Islander-Serving Institutions (AANAPISIs) are encouraged to apply to this program. CIBA Interns will:
Gain a deeper understanding of museum conservation through multi-disciplinary experiences involving the conservation of objects, paintings, textiles, paper, time-based media, and/or other materials
Increase their knowledge of advanced technology in the field of museum conservation
Learn about topics in museum conservation practices, industry standards, and educational requirements through weekly seminars curated by institutional experts
Hone their research, laboratory, and professional skills through their internship and weekly skill-building seminars.
How it Works
To help defray living expenses during the tenure of their internship, CIBA interns will be offered a  stipend of $420.00/week. Housing for the duration of the internship will be provided and paid for by the Smithsonian. A relocation travel allowance may also be included as part of the internship award.
Guided by interests and availability of opportunities, during their internship, each CIBA intern will be placed in the conservation department of a particular Smithsonian unit for the duration of their time at the Smithsonian. These units include:
Freer-Sackler Galleries of Art (FSGA)
Hirshhorn Museum and Sculpture Garden (HMSG)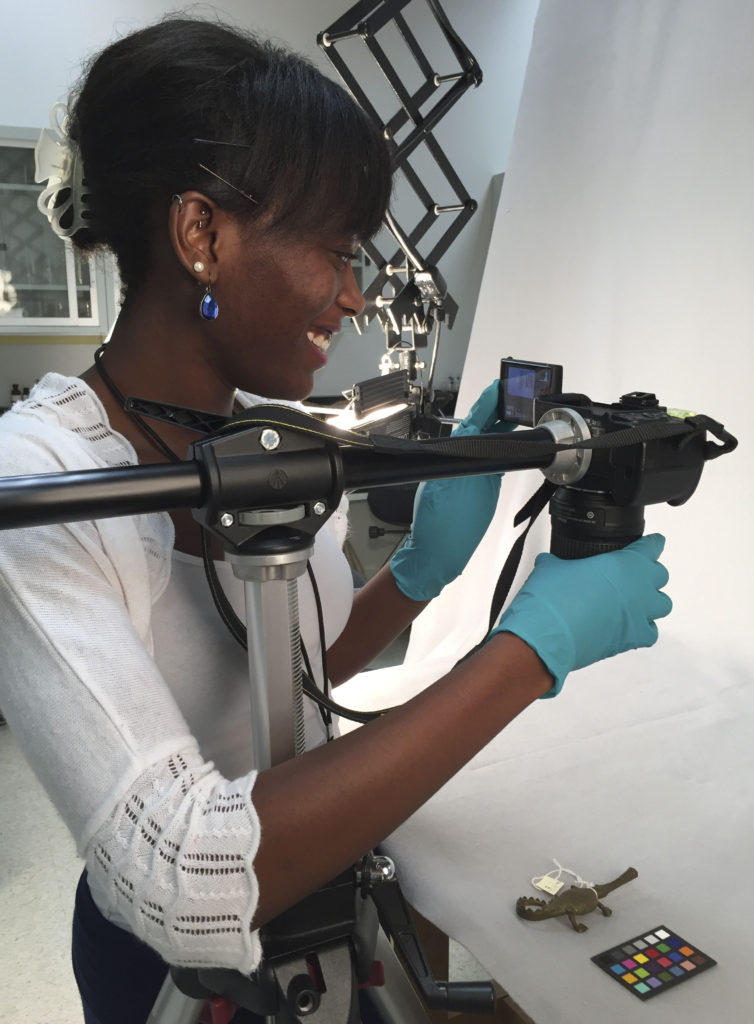 Museum Conservation Institute (MCI)
National Air and Space Museum (NASM) 
National Museum of African American History and Culture (NMAAHC)
National Museum of African Art (NMAfA)
National Museum of American History (NMAH)
National Museum of the American Indian (NMAI)
National Portrait Gallery (NPG)
Smithsonian American Art Museum (SAAM)
Smithsonian Archives (SIA) and Libraries (SIL)
Prospective CIBA interns may indicate their preferences for placement in their application to the program.
In addition to their individual placements, CIBA interns will have an opportunity to participate in a weekly seminar with other CIBA interns as a cohort. These seminars will touch on a spectrum of interdisciplinary museum conservation topics, involve an array of different experiences, and be led by a variety of institutional experts. The CIBA weekly seminar will also incorporate programming from Smithsonian partnerships with graduate conservation programs. 
Towards the end of their internship experience, each CIBA intern will be required to create, submit, and present a report summarizing what they have learned during their experience and outlining what their next steps might be.
How to Apply
Use the SOLAA System to Apply Online
To apply, create an account on the Smithsonian Online Academic Appointment System (SOLAA). Then start an application for this internship program.
Register for SOLAA
Select "Internship"
Select "Office of Internships"
Select "Smithsonian "Conservation Internship for Broadening Access (CIBA)" from the drop-down menu.
As part of the application, you will be asked to submit:
A current CV or resume including your education, any volunteer experience, skills and accomplishments (2 pages maximum)
An Essay: Application essay must address the following questions 1) Cultural heritage refers to intangible concepts such as language and practices, as well as tangible objects, collections, specimens, structures, or sites identified as having artistic, historical, scientific, religious, or social significance. What is it about working with and preserving cultural heritage that interest you? (200 words) 2) A short biography describing your background, personal history and interests, and your major/minor, if declared (300 words) 3) How will the CIBA program help you further define your career goals? What do you hope to gain from this experience (200 words) 4) How did you hear about this opportunity?
Transcripts: (or other materials when transcripts are not issued) from all appropriate institutions are required. Unofficial transcripts are acceptable. If transcripts or other materials are not in English, the applicant should provide translations.
References: Two letters of recommendation, at least one of which must be academic, sent directly to SOLAA from your referees by the application close date.
Your Preference: In the application you will be asked to identify which Smithsonian Unit(s) you are most interested in joining for your internship. Please see list above.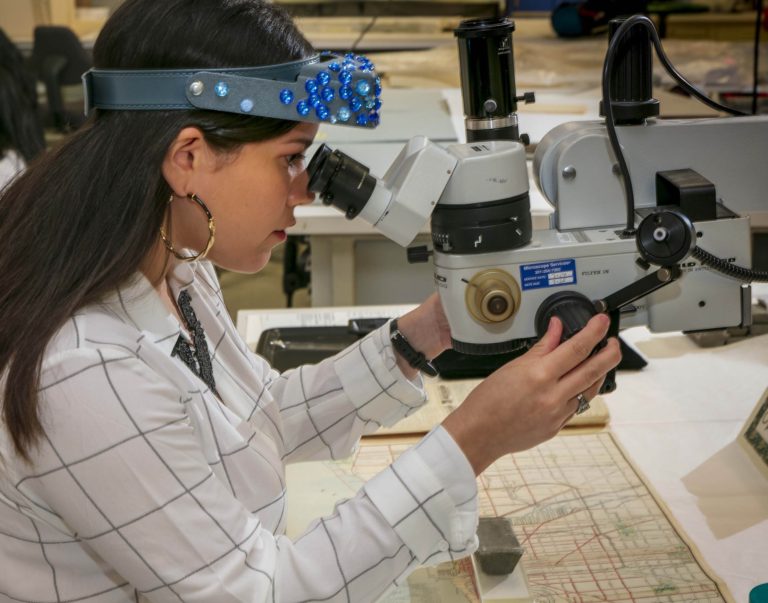 The Smithsonian is committed to ensuring that all employees and affiliated persons (including interns) are treated equitably in an environment that is free from discrimination based on race, color, religion, sex (including gender identity, gender stereotyping, pregnancy, and sexual orientation), national origin, age, disability, genetic information, parental status or marital status. All personnel practices, including the selection of interns, must comply with this policy.